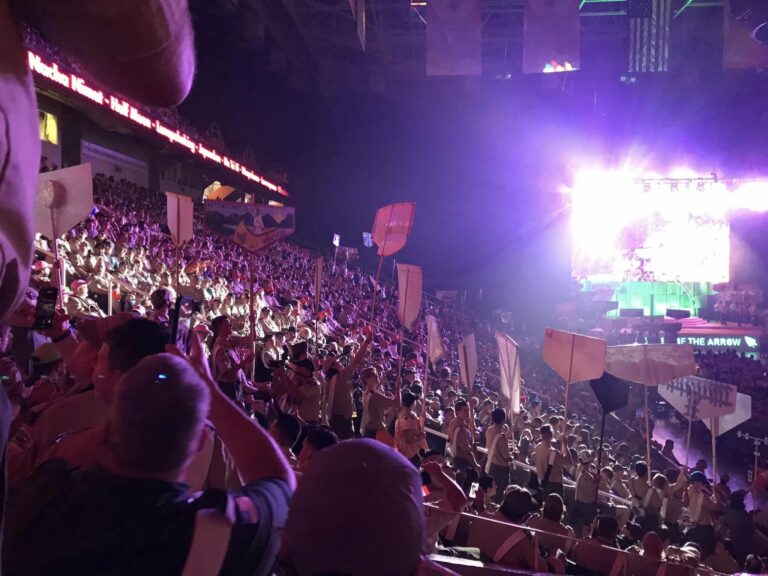 2024 NOAC REGISTRATION
---
Registration for the National Order of the Arrow Conference (NOAC) 2024 is now open! You can reserve your spot with the NOAC Passaconaway Lodge Contingent with a $100 deposit.
What is NOAC? Approximately every two years, the Order of the Arrow holds a national conference (NOAC) on the campus of a major university. NOAC is the flagship national event, held over six days (plus travel days) with thousands of Arrowmen participating from throughout the BSA. The conference program includes innovative leadership development, programs, fellowship periods and inspirational shows. In 2024, the 35th NOAC will be held at the University of Colorado Boulder, July 29th – August 3rd. This will be the first NOAC west of Iowa since 1988! NOAC is a great way to learn more about the Order of the Arrow and all the opportunities that exist in the OA. It is also a great way to meet Arrowmen from across the country and have an amazing time!
We hope you'll join our lodge contingent at the conference as we compete with more than 200 other lodge contingents in competitions, watch the live performances at the stadium shows, and attend the conference festival!
Why you should join us for this exciting event:
> Gather with upwards of 8,000 other Arrowmen who will attend NOAC, the OA's largest event!
> Watch the nightly shows, including live entertainment, a laser light show, appearances by national officers, and more!
> Meet and talk with Arrowmen and Scouts from across the country, all gathered together in one place!
> Experience patch trading like you've never experienced it before. Even the National Jamboree can't compete with NOAC for patch trading!
> Participate in a variety of competitions and events. Swimming, Ultimate Frisbee, a carnival, climbing walls, escape rooms, and much more are all available at NOAC.
> Learn leadership skills that will help you throughout your lifetime.
> Spend a week living in a college dorm room at the University of Colorado! Our lodge contingent will be housed together during the conference.
Questions? Send email to chief@lodge220.org