Click Here to pay your 2022 Dues
It's time to renew your membership in Passaconaway Lodge for 2022! Paying dues entitles you to all the benefits of lodge membership, including attending lodge events, participating in OA High Adventure programs, and representing the OA in your troop. You must be currently registered in the BSA to be in the OA.
To celebrate our 80th Anniversary we are offering a 5 Year Dues Plan at a special cost of $100. Each year of dues is contingent upon continued registration in BSA. It is expected that the dues will be increased over the next 5 years so please take advantage of this incentive.
Every dues paying member of 2022 will receive a free Annual Member patch. . Any member that takes advantage of the 5 Year Dues Plan will receive the complete 5 year patch set for 2022-2027. So get them one at a time each year, or all 5 at once!
If you prefer to not pay online, continue with the on-line registration and select Pay by Mail, print your receipt and send it with your payment to the Council office.
Passaconaway Lodge, Daniel Webster Council News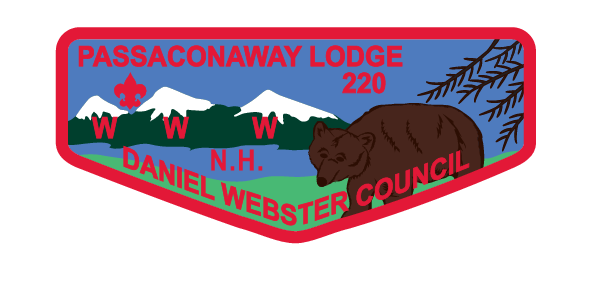 Passaconaway Lodge
LODGE CONFERENCE
HIDDEN VALLEY SCOUT CAMP

TRAINING LEADERS- DEVELOPING THE TEAM – INSPIRING SERVICE
Mark your calendar—Join us for the Conference on October 14-16, 2022
Conference attendees: BRING YOUR TENT – Arrive Friday, 5:30 and leave Sun by 12 noon
BSA MEDICAL FORM PARTS A&B REQUIRED FOR ALL CONFERENCE PARTICIPANTS (PARENTAL SIGNATURE REQUIRED IF UNDER 18)
You may register online by clicking on "REGISTER" button below.
You may pay online by using Credit Card, Apple Pay, or Google Pay, there will be a 3% convenience fee included .
You may mail your check or pay at the door by check or cash at check-in at camp.
If you do not want to pay on line Please select the non online entry on the registration field and  email Linda Hamel at lbhscouter@gmail.com