Click Here to pay your 2022 Dues
It's time to renew your membership in Passaconaway Lodge for 2022! Paying dues entitles you to all the benefits of lodge membership, including attending lodge events, participating in OA High Adventure programs, and representing the OA in your troop. You must be currently registered in the BSA to be in the OA.
To celebrate our 80th Anniversary we are offering a 5 Year Dues Plan at a special cost of $100. Each year of dues is contingent upon continued registration in BSA. It is expected that the dues will be increased over the next 5 years so please take advantage of this incentive.
Every dues paying member of 2022 will receive a free Annual Member patch. . Any member that takes advantage of the 5 Year Dues Plan will receive the complete 5 year patch set for 2022-2027. So get them one at a time each year, or all 5 at once!
If you prefer to not pay online, continue with the on-line registration and select Pay by Mail, print your receipt and send it with your payment to the Council office.
Passaconaway Lodge, Daniel Webster Council News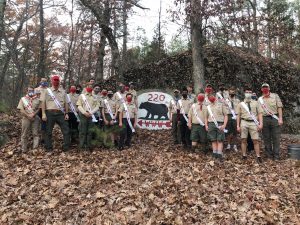 The weekend is to induct Ordeal Candidates into Scouting's National Honor Society. Ordeal members seal their membership in the OA becoming Brotherhood members.
****We do not know what restrictions might be in-place due to Covid-19. Sign up will be first come first serve if there has to be limits on numbers, so please get signed up so you can attend.****
All current OA Members please arrive between 5:00 and 7:30 PM Friday. Plan on staying through the Lodge Business meeting at 11:30 AM. on Sunday. To be held from 9/9-11/2022
****ALL ORDEAL CANDIDATES****
Please arrive between 6:00 and 6:30 PM on Friday September 9th. Pease plan on staying through the Lodge Business Meeting at 11:30am on Sunday morning.
You may register on-line by clicking on REGISTER below. You may pay on line by using PayPal, Credit Card or checking account. If you do not want to pay on line, please select "mail/ off line" at checkout. If there is not enough time to mail it to the office with the attached registration form then bring cash or check to the check-in at camp.
Click here to Register